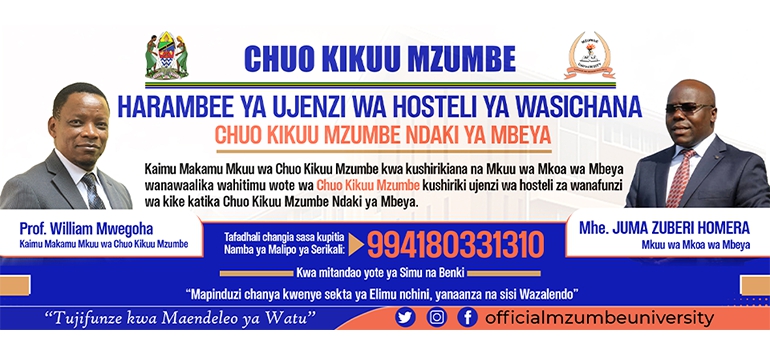 Mzumbe University Alumni And Partners Fundraising Campaign For Female Studentss' Hostel: Mzumbe University - Mbeya Campus
11 Sep
Joseph Kiphizi
Added: 3 weeks, 2 days
2190 Attending
The increased need for a balanced education between male and female students, and a growing challenge facing female students during their studies has pushed Mzumbe University to solve the problem in collaboration with alumni and partners.
The Mbeya Campus which is the focal point for this campaign is currently hosting about 3500 students and has a capacity to provide accommodation for only about 500 students. The rest of students who do not have accommodation are required to find housing solutions outside the University campus. Recently there has been increased social risks especially for the female students. To address this problem the University has proposed a construction of a new hostel for female students with a capacity to host about 1200 Students. The total cost for this entire project is about 5.8 billion Tanzanian Shillings.
To be able to raise this amount the University is kindly requesting you to pledge your support for this important mission. This support can be in terms of cash or materials which are required for the construction. This pledge can be collected up to March 2024. The University has opened a special payment number (KUMBUKUMBU NAMBA) for the campaign which is 994180331310. The name which will appear is: MCC Fundraising Campaign. We appreciate for your support and together we can make an impact for now and future.
Start Time
Mon 11 Sep 2023 10:11 p.m. - 10:19 p.m.
Ending Time
Sat 30 Mar 2024 10:19 p.m.
Event Location
Mzumbe University